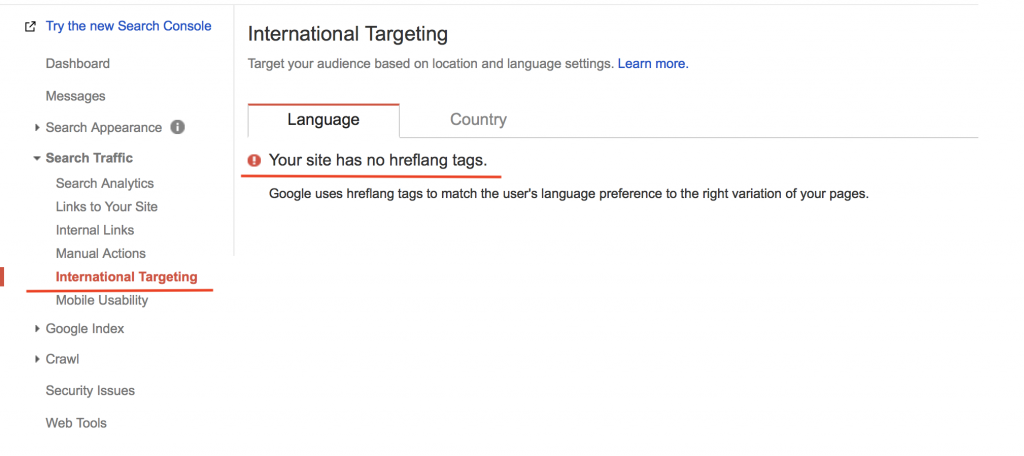 Are you are a webmaster or website owner who relies on SEO rankings for leads or traffic? If so, the last thing you ever want to see is an error in Google Search Console. Now, visit Google Search Console under Search Traffic > International Targeting, and you have not yet added hreflang tags, you will most likely see these words – "Your site has no hreflang tags.".
If you do not see that line of text, then Great Job! You have already discovered the importance of adding hreflang tags to your site. If you are happy with the plugin you used to add the tags to your site, congratulations. However, feel free to read the rest of this page – who knows, you might have a friend or colleague who operates a WordPress-powered website and they needs to add hreflang tags.
But, if you do see that error message in Google Search Console and you own or operate a WordPress-powered website, then you should probably continue reading this page.
If you already know what hreflang tags are and you are ready to add them to your website, please take a look at our flexible plans and pricing.
What Are HREFLANG Tags?
Hreflang tags are a technical solution for sites that have similar content in multiple languages. The owner of a multilingual site wants search engines to send people to the content in their own language. Say a user is French and the page that ranks well is English, but there's also a French version. You would like Google to show the French page in the search results for that French user. This is the kind of problem hreflang was designed to solve.
How Does This Apply To Me?
Google says* there are three specific scenarios that require the use of hreflang tags.
If you keep the main content in a single language and translate only the template, such as the navigation and footer. Pages that feature user-generated content, like forums, typically do this.
If your content has small regional variations with similar content, in a single language. For example, you might have English-language content targeted to the US, GB, and Ireland.
If your site content is fully translated into multiple languages. For example, you have both German and English versions of each page.
* Source: https://support.google.com/webmasters/answer/189077
What Does Google Say About HREFLANG Tags
Watch Maile Ohye, Tech Lead from Google's Developer Program and she describes the different scenarios for using hreflang tags and the consequences of not using them.
What Do I Get With HREFLANG Tags for WordPress
You get our latest version of HREFLANG Tags for WordPress with these great features
FREE installation and implementation support
You get free upgrades for 1** year
You get free Premium support for 1** year
We also have Lifetime Plans available at a great price.
Questions before you buy?
Take a look at our FAQs
here
or feel free to
contact us
for any pre-sales questions.
If you're not ready to commit just yet, you can also try HREFLANG Tags Lite before you buy.